Here's the link to our solution.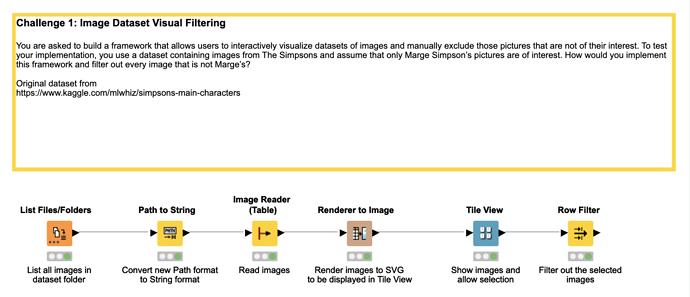 Where's your solution? Show the community how you solved it too!
#justknimeit-1
Hi @alinebessa and welcome to the Knime Community.
In the end, your workflow vs @victor_palacios 's comes down to PNG vs SVG. For display in the table, SVG is probably better because you can change the size of the table rows/columns, and PNG files do not scale well because they're pixel-based, while SVG files do scale very well, as they're vector-based.
Here is my solution: Link RB.
I decompressed the file manually. Sorry for the subtitles, I wrote them in Italian.
RB
Here is my solution of challenge 1
I also decompressed the files manually and then I read the images of each folder separately in order to create one large dataset of the whole Simpsons family
This topic was automatically closed 90 days after the last reply. New replies are no longer allowed.