Hello everyone,
I have a problem with splitting texts I imported from an Excel-Sheet.
There is a column called "Inspection Text" which contains information. An Example is shown in the following picture: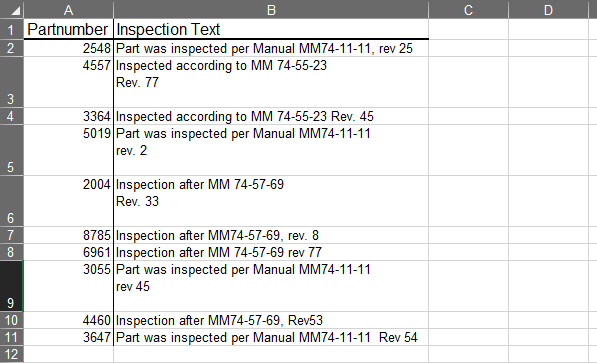 There are two kinds of information noted in the "Inspection Text" column. First the maintenance manual chapter (two letters, follwoed by six numbers) and after that the corresponding revision date. The information are seperated by spaces and line breaks. Unfortunately there sometimes also dots included.
I tried to split the information using the Regex-Split node but I´m not able to wirte the correct pattern.
Can someone help me to code the correct / necessary regex to split the text in two columns?
Thanks in advance and have a great day,
Martin