Hello Knimers,
Since last year I created a small workflow to pull data from different servers (what used to be a manual process using the WINSCP application that required the server information, login credentials to pull the data logs)
Thanks to KNIME I was able to automate that process a bit with the use of two nodes:
SSH Connection
Download
The first node (SSH Connection) I configured with the host name (name of the server I needed to connect to) and the respective user and password.
The second node is configured with the source folder (path where the logs.txt files are located) and where to put them (target folder for the copy of the logs)
This worked like a charm until the company that I work for implemented a new authentication method that requires, besides username and password, a 6 digit passcode that changes every minute (from SecureAuth) and now I get an "authentication failed" error message, which makes sense since I am not authenticating properly (username + password + 6-digit passcode).
The question is:
Are you guys familiar with any solution I could implement to either input that 6 digit code manually or something that could be directly integrated into the workflow? I do have access to the code generator and it works fine if I go back to the manual process I mentioned at the beginning.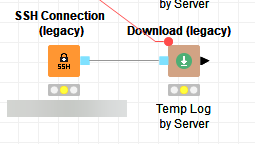 Thank you in advance for all your suggestions. Go KNIME!