Hi,
I have a really strange error and I was not able to fix it till now. A have a python script, which takes a dataframe and returns a pandas dataframe with 3 columns. Each element in every column is a list itself. The script worked totally fine, but know I'm getting a completely random error:

I know this kind of error and know what it means, but it makes no sense, because the script is running completely fine when I click on execute in the node.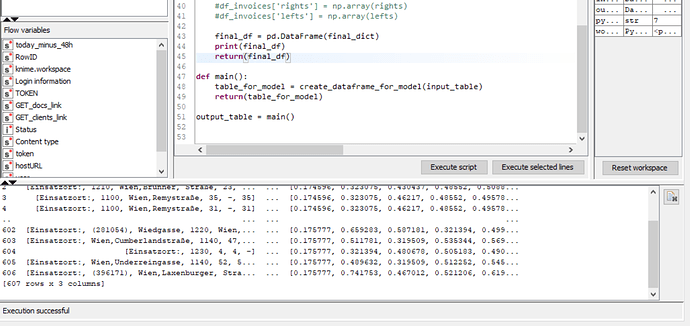 Furthermore if I just swap my return df final_df with the input_table df_invoices there is no error anymore. Which makes no sense, because the script is doing essentially the same but is just returning the old not altered dataframe. And what does this have to do with the error above? Why is there even an error outside of the node but not inside?
Can someone please help me.
EDIT: If I comment everything out and just return a pandas DF with numbers I get the following error:
It is so weird because it worked fine before.
Best regards
Armin