Hi,
I have an issue in aggregation of a hierarchical tabel and I will simplify the input to give you an idea:

Suppose there is a hierarchy with sales. The application and the number of levels is completely different.
I would like to retrieve the following output: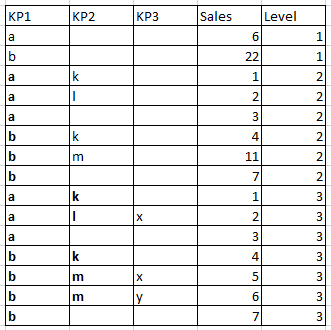 So, on every level an aggregation. Since the number of levels is high and simular calculations need to be done on some instances in the flow I do not want to combine the outputs of group by nodes.
Could this be done with the pivoting node (like Excel) or should I use loops with different group selections?
I do not have a lot of experience with loops, so your suggestions are very welcome.
Thanks in advance!
Jan