Hi all,
I would need help on the date format
The data table has 2 columns i.e, Month Year.
|Month|Year|
January (String) | Year (Integer)
I try to create a workflow to concatenate


This is the derived new date format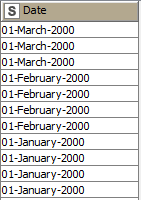 The string-to-date&time node doesn't seem to work on the new date format
How do I proceed from here to convert date format into dd-mm-yyyy?
Or is there a better way to create the workflow to get the dd-mm-yyyy output?
Thanks
Jackson