Hello!
I`m rather new to KNIME and have trouble doing the transformation I am looking for.
So my input is a table displaying the results from image analysis. For each image I analyse the area of a certain number of particles, but the amount of particles per image varies strongly.
I receive this data in the form of a table, in which column 1 displays the number of a particle, column 2 displaying the area of that particle and column 3 displaying the file name of the corresponding image.
Now, what I would like to do is to transform this table so that each column corresponds to one of my images and includes the area values of all particles in that image.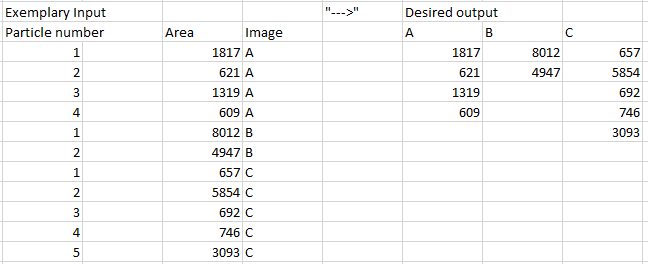 I found a post with a similar problem (Transform single column to multiple columns) - my problem is that I have this arbitrary number of particles and thus, values per image, preventing the "Chunk Loop Start" node to be useful.
An idea I had was to create a matrix using the "One to many" node, starting a loop to go through it row by row and then assigning the respective area values for each image, but I couldnt get it to work.
I also tried playing around with the "Column List Loop Start" node as a replacement for the "Chunk Loop Start" node, but did not really get anywhere, either.
If anybody has an idea what I could do, I would greatly appreciate any support