Hello guys,
I would like to know your idea about approach to my transformation.
I need to parse text strings in KNIME. In Pentaho I used approach like this: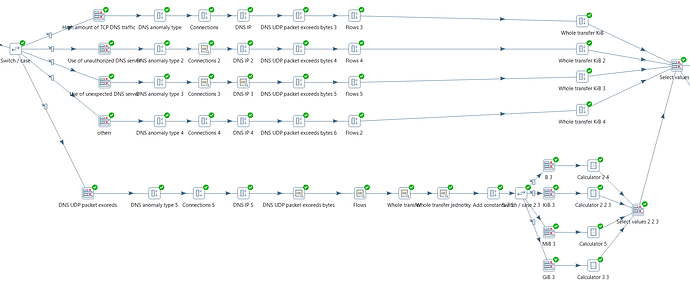 if text begins with
High amount of TCP DNS traffic => go into the first branch
Use of unauthorized DNS server => go into the first branch
.
etc
.
other => something else which is not defined
in case there occur some undefined text string I can extend this case by another branch like it used to happened with DNS UDP packet exceeds
If you were me which approach you would follow? I think this way with so huge CASE node in KNIME is not possible or can you give me some hint?
Example of another Pentaho huge transformation uses CASE node based on first sentence in text string. I need to know how to solve this approach


Thank you in advance.
Jiri