An internal error occurred during: "Update NodePit Plugin Configuration".
org/json/JSONException
KNIME AP Version: 4.7 / NodePit update site: https://download.nodepit.com/4.7
Just uninstall it and install back. I had same issue.
It happened again after running the latest update… Reinstalling now.
Unfortunately that's not much details to dig deeper. Can you provide more info? Log, stack trace, etc.?
Thx.
It seems stable issue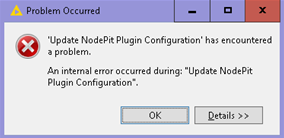 I think I have one install that I haven't gotten around to fully re-installing yet. I will copy the log in the morning.
Great - that would be very helpful
2023-01-03 10:38:02,308 : WARN : ForkJoinPool.commonPool-worker-4 : : MoePreferencePage : : : Path to MOE not set in Preferences. Please check!
2023-01-03 10:38:02,594 : ERROR : ForkJoinPool.commonPool-worker-14 : : KNIPLogService : : : [ERROR] Cannot create plugin: class='org.scijava.plugins.scripting.javascript.JavaScriptScriptLanguage', name='JavaScript', priority=0.0, enabled=true, pluginType=ScriptLanguage
java.lang.IllegalArgumentException: No such script engine: javascript
at org.scijava.script.AdaptedScriptLanguage.findFactory(AdaptedScriptLanguage.java:152)
at org.scijava.script.AdaptedScriptLanguage.(AdaptedScriptLanguage.java:74)
at org.scijava.plugins.scripting.javascript.JavaScriptScriptLanguage.(JavaScriptScriptLanguage.java:59)
at java.base/jdk.internal.reflect.NativeConstructorAccessorImpl.newInstance0(Native Method)
at java.base/jdk.internal.reflect.NativeConstructorAccessorImpl.newInstance(Unknown Source)
at java.base/jdk.internal.reflect.DelegatingConstructorAccessorImpl.newInstance(Unknown Source)
at java.base/java.lang.reflect.Constructor.newInstanceWithCaller(Unknown Source)
at java.base/java.lang.reflect.ReflectAccess.newInstance(Unknown Source)
at java.base/jdk.internal.reflect.ReflectionFactory.newInstance(Unknown Source)
at java.base/java.lang.Class.newInstance(Unknown Source)
at org.scijava.plugin.PluginInfo.createInstance(PluginInfo.java:306)
at org.scijava.plugin.DefaultPluginService.createInstance(DefaultPluginService.java:237)
at org.scijava.plugin.DefaultPluginService.createInstances(DefaultPluginService.java:226)
at org.scijava.plugin.DefaultPluginService.createInstancesOfType(DefaultPluginService.java:217)
at org.scijava.plugin.AbstractSingletonService.initInstances(AbstractSingletonService.java:138)
at org.scijava.plugin.AbstractSingletonService.getInstances(AbstractSingletonService.java:77)
at org.scijava.plugin.SingletonService.lambda$initialize$0(SingletonService.java:97)
at org.scijava.object.ObjectIndex.resolvePending(ObjectIndex.java:388)
at org.scijava.object.ObjectIndex.get(ObjectIndex.java:133)
at org.scijava.object.DefaultObjectService.getObjects(DefaultObjectService.java:87)
at org.knime.knip.imagej2.core.IJGateway.isMultipleChoiceObject(IJGateway.java:352)
at org.knime.knip.imagej2.core.IJGateway.isSupportedInputType(IJGateway.java:340)
at org.knime.knip.imagej2.core.IJGateway.findSupportedModules(IJGateway.java:243)
at org.knime.knip.imagej2.core.IJGateway.(IJGateway.java:157)
at org.knime.knip.imagej2.core.IJGateway.getInstance(IJGateway.java:134)
at org.knime.knip.imagej2.core.IJGateway.getImageJVersion(IJGateway.java:169)
at org.knime.knip.imagej2.core.node.IJNodeSetFactory.(IJNodeSetFactory.java:99)
at java.base/jdk.internal.reflect.NativeConstructorAccessorImpl.newInstance0(Native Method)
at java.base/jdk.internal.reflect.NativeConstructorAccessorImpl.newInstance(Unknown Source)
at java.base/jdk.internal.reflect.DelegatingConstructorAccessorImpl.newInstance(Unknown Source)
at java.base/java.lang.reflect.Constructor.newInstanceWithCaller(Unknown Source)
at java.base/java.lang.reflect.Constructor.newInstance(Unknown Source)
at org.eclipse.core.internal.registry.osgi.RegistryStrategyOSGI.createExecutableExtension(RegistryStrategyOSGI.java:204)
at org.eclipse.core.internal.registry.ExtensionRegistry.createExecutableExtension(ExtensionRegistry.java:920)
at org.eclipse.core.internal.registry.ConfigurationElement.createExecutableExtension(ConfigurationElement.java:246)
at org.eclipse.core.internal.registry.ConfigurationElementHandle.createExecutableExtension(ConfigurationElementHandle.java:63)
at org.knime.core.node.extension.NodeSetFactoryExtension.from(NodeSetFactoryExtension.java:265)
at java.base/java.util.stream.ReferencePipeline$3$1.accept(Unknown Source)
at java.base/java.util.Spliterators$ArraySpliterator.forEachRemaining(Unknown Source)
at java.base/java.util.stream.ReferencePipeline$Head.forEach(Unknown Source)
at java.base/java.util.stream.ReferencePipeline$7$1.accept(Unknown Source)
at java.base/java.util.Spliterators$ArraySpliterator.forEachRemaining(Unknown Source)
at java.base/java.util.stream.AbstractPipeline.copyInto(Unknown Source)
at java.base/java.util.stream.AbstractPipeline.wrapAndCopyInto(Unknown Source)
at java.base/java.util.stream.ReduceOps$ReduceTask.doLeaf(Unknown Source)
at java.base/java.util.stream.ReduceOps$ReduceTask.doLeaf(Unknown Source)
at java.base/java.util.stream.AbstractTask.compute(Unknown Source)
at java.base/java.util.concurrent.CountedCompleter.exec(Unknown Source)
at java.base/java.util.concurrent.ForkJoinTask.doExec(Unknown Source)
at java.base/java.util.concurrent.ForkJoinPool$WorkQueue.topLevelExec(Unknown Source)
at java.base/java.util.concurrent.ForkJoinPool.scan(Unknown Source)
at java.base/java.util.concurrent.ForkJoinPool.runWorker(Unknown Source)
at java.base/java.util.concurrent.ForkJoinWorkerThread.run(Unknown Source)
2023-01-03 10:38:02,595 : ERROR : ForkJoinPool.commonPool-worker-14 : : KNIPLogService : : : [ERROR] Cannot create plugin: class='org.scijava.plugins.scripting.javascript.JavaScriptScriptLanguage', name='JavaScript', priority=0.0, enabled=true, pluginType=ScriptLanguage
java.lang.IllegalArgumentException: No such script engine: javascript
at org.scijava.script.AdaptedScriptLanguage.findFactory(AdaptedScriptLanguage.java:152)
at org.scijava.script.AdaptedScriptLanguage.(AdaptedScriptLanguage.java:74)
at org.scijava.plugins.scripting.javascript.JavaScriptScriptLanguage.(JavaScriptScriptLanguage.java:59)
at java.base/jdk.internal.reflect.NativeConstructorAccessorImpl.newInstance0(Native Method)
at java.base/jdk.internal.reflect.NativeConstructorAccessorImpl.newInstance(Unknown Source)
at java.base/jdk.internal.reflect.DelegatingConstructorAccessorImpl.newInstance(Unknown Source)
at java.base/java.lang.reflect.Constructor.newInstanceWithCaller(Unknown Source)
at java.base/java.lang.reflect.ReflectAccess.newInstance(Unknown Source)
at java.base/jdk.internal.reflect.ReflectionFactory.newInstance(Unknown Source)
at java.base/java.lang.Class.newInstance(Unknown Source)
at org.scijava.plugin.PluginInfo.createInstance(PluginInfo.java:306)
at org.scijava.plugin.DefaultPluginService.createInstance(DefaultPluginService.java:237)
at org.scijava.plugin.DefaultPluginService.createInstances(DefaultPluginService.java:226)
at org.scijava.plugin.DefaultPluginService.createInstancesOfType(DefaultPluginService.java:217)
at org.scijava.plugin.AbstractSingletonService.initInstances(AbstractSingletonService.java:138)
at org.scijava.plugin.AbstractSingletonService.getInstances(AbstractSingletonService.java:77)
at org.scijava.plugin.SingletonService.lambda$initialize$0(SingletonService.java:97)
at org.scijava.object.ObjectIndex.resolvePending(ObjectIndex.java:388)
at org.scijava.object.ObjectIndex.get(ObjectIndex.java:133)
at org.scijava.object.DefaultObjectService.getObjects(DefaultObjectService.java:87)
at org.knime.knip.imagej2.core.IJGateway.isMultipleChoiceObject(IJGateway.java:352)
at org.knime.knip.imagej2.core.IJGateway.isSupportedInputType(IJGateway.java:340)
at org.knime.knip.imagej2.core.IJGateway.findSupportedModules(IJGateway.java:243)
at org.knime.knip.imagej2.core.IJGateway.(IJGateway.java:157)
at org.knime.knip.imagej2.core.IJGateway.getInstance(IJGateway.java:134)
at org.knime.knip.imagej2.core.IJGateway.getImageJVersion(IJGateway.java:169)
at org.knime.knip.imagej2.core.node.IJNodeSetFactory.(IJNodeSetFactory.java:99)
at java.base/jdk.internal.reflect.NativeConstructorAccessorImpl.newInstance0(Native Method)
at java.base/jdk.internal.reflect.NativeConstructorAccessorImpl.newInstance(Unknown Source)
at java.base/jdk.internal.reflect.DelegatingConstructorAccessorImpl.newInstance(Unknown Source)
at java.base/java.lang.reflect.Constructor.newInstanceWithCaller(Unknown Source)
at java.base/java.lang.reflect.Constructor.newInstance(Unknown Source)
at org.eclipse.core.internal.registry.osgi.RegistryStrategyOSGI.createExecutableExtension(RegistryStrategyOSGI.java:204)
at org.eclipse.core.internal.registry.ExtensionRegistry.createExecutableExtension(ExtensionRegistry.java:920)
at org.eclipse.core.internal.registry.ConfigurationElement.createExecutableExtension(ConfigurationElement.java:246)
at org.eclipse.core.internal.registry.ConfigurationElementHandle.createExecutableExtension(ConfigurationElementHandle.java:63)
at org.knime.core.node.extension.NodeSetFactoryExtension.from(NodeSetFactoryExtension.java:265)
at java.base/java.util.stream.ReferencePipeline$3$1.accept(Unknown Source)
at java.base/java.util.Spliterators$ArraySpliterator.forEachRemaining(Unknown Source)
at java.base/java.util.stream.ReferencePipeline$Head.forEach(Unknown Source)
at java.base/java.util.stream.ReferencePipeline$7$1.accept(Unknown Source)
at java.base/java.util.Spliterators$ArraySpliterator.forEachRemaining(Unknown Source)
at java.base/java.util.stream.AbstractPipeline.copyInto(Unknown Source)
at java.base/java.util.stream.AbstractPipeline.wrapAndCopyInto(Unknown Source)
at java.base/java.util.stream.ReduceOps$ReduceTask.doLeaf(Unknown Source)
at java.base/java.util.stream.ReduceOps$ReduceTask.doLeaf(Unknown Source)
at java.base/java.util.stream.AbstractTask.compute(Unknown Source)
at java.base/java.util.concurrent.CountedCompleter.exec(Unknown Source)
at java.base/java.util.concurrent.ForkJoinTask.doExec(Unknown Source)
at java.base/java.util.concurrent.ForkJoinPool$WorkQueue.topLevelExec(Unknown Source)
at java.base/java.util.concurrent.ForkJoinPool.scan(Unknown Source)
at java.base/java.util.concurrent.ForkJoinPool.runWorker(Unknown Source)
at java.base/java.util.concurrent.ForkJoinWorkerThread.run(Unknown Source)
Thank you, however this stack trace is unrelated to NodePit. We have an idea though what might be causing the issue. Update will follow.
If anybody @iCFO @izaychik63 could post these details, that will additionally be helpful: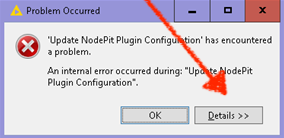 Here we go.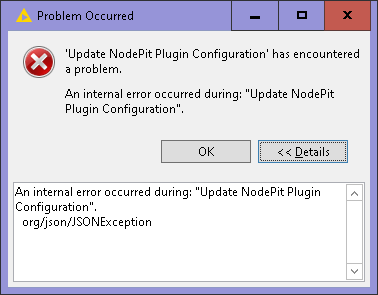 We've pushed version 2.7.3 earlier today which includes a change which hopefully fixes this issue. "Hopefully", because we were so far not able to locally reproduce the problem, thus: Please keep me posted here, if the issue is resolved for you!
Many thanks,
Philipp
Flawless on my end! Thanks again Philipp!
Issue gone. Thanks a lot.
Whoop - thanks so much for the double confirmation, guys!

This topic was automatically closed 7 days after the last reply. New replies are no longer allowed.