Hi,
I am trying to connect to a Teradata database with the Node DB connector.
The details provided by the IT admin of my organization are:
Host: "teradata" (He is not very sure about it)
port:1025
database name: "teradata"
The credentials in the DB connector are correct.
When connecting to the same DB via Teradata Studio, I can succesfully connect. Those are the connection parameters.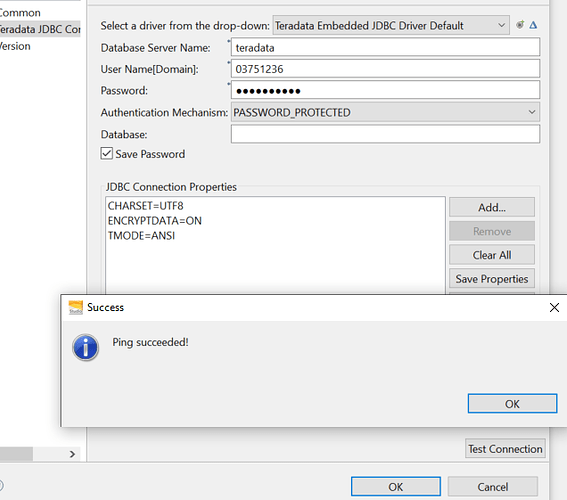 The URL I am using in DB connector Node is that one:
jdbc:teradata://teradata:1025/teradata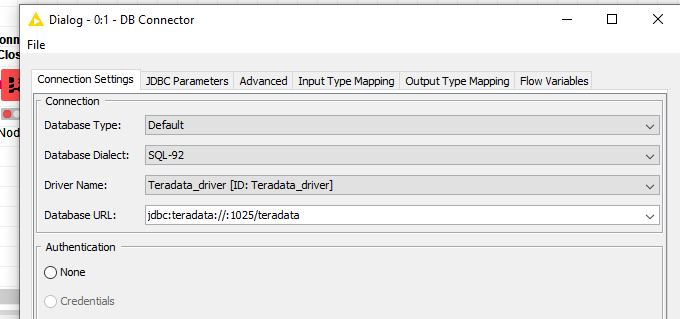 And I am obtaining the error below.
Is the error in the URL? What would be the correct URL?
I have already looked at similar posts and haven't been able to find any solution.
Thanks for your help!
ERROR DB Connector 0:1 Execute failed: [Teradata JDBC Driver] [TeraJDBC 17.00.00.02] [Error 1000] [SQLState 08S01] Login failure for Connection to teradata:1025 Wed Nov 11 15:04:42 CET 2020 socket orig=teradata:1025 cid=79b3c38f sess=0 java.net.UnknownHostException: teradata:1025 at java.net.Inet6AddressImpl.lookupAllHostAddr(Native Method) at java.net.InetAddress$2.lookupAllHostAddr(InetAddress.java:929) at java.net.InetAddress.getAddressesFromNameService(InetAddress.java:1324) at java.net.InetAddress.getAllByName0(InetAddress.java:1277) at java.net.InetAddress.getAllByName(InetAddress.java:1193) at java.net.InetAddress.getAllByName(InetAddress.java:1127) at com.teradata.jdbc.jdbc_4.io.TDNetworkIOIF$Lookup.doLookup(TDNetworkIOIF.java:223) at com.teradata.jdbc.jdbc_4.io.TDNetworkIOIF$Lookup.isLiteralIpAddress(TDNetworkIOIF.java:249) at com.teradata.jdbc.jdbc_4.io.TDNetworkIOIF.connectToHost(TDNetworkIOIF.java:336) at com.teradata.jdbc.jdbc_4.io.TDNetworkIOIF.createSocketConnection(TDNetworkIOIF.java:156) at com.teradata.jdbc.jdbc_4.io.TDNetworkIOIF.(TDNetworkIOIF.java:142) at com.teradata.jdbc.jdbc.GenericTeradataConnection.getIO(GenericTeradataConnection.java:143) at com.teradata.jdbc.jdbc.GenericLogonController.run(GenericLogonController.java:100) at com.teradata.jdbc.jdbc_4.TDSession.(TDSession.java:211) at com.teradata.jdbc.jdk6.JDK6_SQL_Connection.(JDK6_SQL_Connection.java:36) at com.teradata.jdbc.jdk6.JDK6ConnectionFactory.constructSQLConnection(JDK6ConnectionFactory.java:25) at com.teradata.jdbc.jdbc.ConnectionFactory.createConnection(ConnectionFactory.java:181) at com.teradata.jdbc.jdbc.ConnectionFactory.createConnection(ConnectionFactory.java:171) at com.teradata.jdbc.TeraDriver.doConnect(TeraDriver.java:236) at com.teradata.jdbc.TeraDriver.connect(TeraDriver.java:162) at org.knime.database.connection.UrlDBConnectionController$ControlledDriver.connect(UrlDBConnectionController.java:95) at org.knime.database.connection.UrlDBConnectionController.createConnection(UrlDBConnectionController.java:308) at org.knime.database.connection.UserDBConnectionController.createConnection(UserDBConnectionController.java:249) at org.knime.database.connection.AbstractConnectionProvider.createConnection(AbstractConnectionProvider.java:89) at org.knime.database.connection.impl.DBConnectionManager.lambda$2(DBConnectionManager.java:501) at java.util.concurrent.FutureTask.run(FutureTask.java:266) at java.util.concurrent.ThreadPoolExecutor.runWorker(ThreadPoolExecutor.java:1149) at java.util.concurrent.ThreadPoolExecutor$Worker.run(ThreadPoolExecutor.java:624) at java.lang.Thread.run(Thread.java:748)