Hi …
I have very nearly 70 million rows of anonymised credit card data that I need to mark with an issuer tag. I have built a really cumbersome cascade of rule-based row splitters and constant value columns that do the job but it slow, bulky and difficult to manage.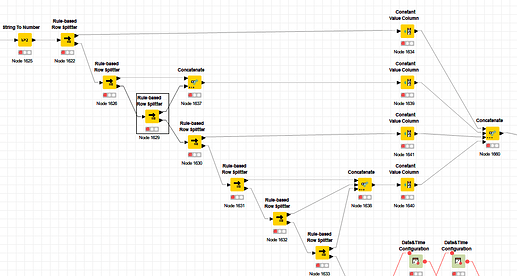 What my cascade does is simple, for example, if the 1st digit of the first 4-digit number is a '4' then the constant value column adds "VISA". If not. then the next splitter checks if the 1st 4-digit number is '2221' or '2720' and if true "MASTERCARD" and on through all the levels of the cascade.
And so it goes through all 69 million rows… at the end of the cascade, all the data is brought back together with a 'Concatenate' node. It takes near 90min to pass through this very inefficient section of the flow.
What I would like to know if there is a simpler way to do this, possibly using an "IF…"?
Thanks
tC/.