Hi …
A client has sent me a JSON service account to access their GCP environment to run a query to access some sample data in preparation for a project that is starting early in March. I want to use KNIME to access GCP and run the query but have not been able to secure a connection using the client service account I have been given.
Below is a screenshot of the 'Google Authentication' node that I have to establish the connection.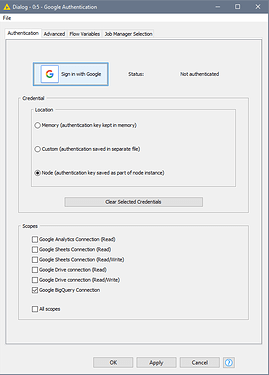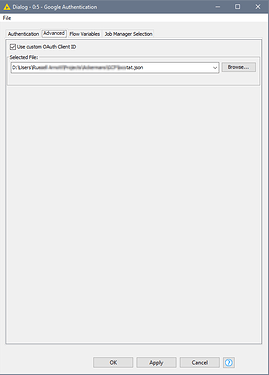 When I try to sign in I get an error in the KNIME node "Not Authenticated" and an additional message dialogue loads with an error "Authentication Failed: IlleagalArugumentExceptions:"
Could this be a problem because I am using the wrong node to authenticate? Or should I be approaching this from a whole other angle?
I would really appreciate any ideas or suggestions.
Thanks,
tC/.