Dear Knimers,
I guess you guys have grown tired of my attempts at comedy, so allow me to switch to magic tricks…
Here we have a table with two columns of type Double:


I can transpose it, which gives me a table with 2 rows and 4 Double columns:


Let's remove the second row with a Row Filter. This yields a table with 1 row and 4 Double columns:


Transposing that one gives me a table with 4 rows and a single Double column: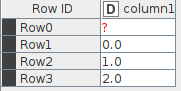 Now transposing that one AGAIN (drumroll)…


…gives me a table with 4 different types: MissingCell, Double, Boolean, Integer!!
How is this possible? The original table was constructed using Concatenate on tables with identical column names but different column types. Apparently, even though the columns are converted to type Double in the combined table, the cells still somehow remember their original types. This is totally invisible to the user, though.
Best
Aswin
KNIME_project22.knwf (18.2 KB)