Hello everyone,
Why I can't workflow from my Hub? Thanks in advance.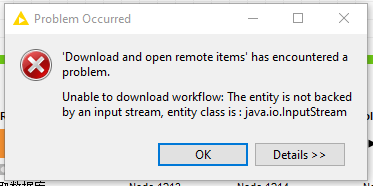 BRs Banks
Hi @Banksy ,
Could you please let us know which KAP version are you using?
Also, are you connected to a VPN which is blocking you to download the workflow?
Thanks,
Sanket
Hi @sanket_2012
My KNIME is 5.1 version and I use zscaler to connect to the network due to my work, but I have no problem downloading nodes.
BRs
Banksy
Hi @Banksy ,
Does the network you are connecting to require proxy authentication?
Thanks,
Sanket
Hi @sanket_2012 ,
Seems to require login authentication.
BRs
Yu Tao
Hi @Banksy,
I have no experience with zscaler. However, it seems that this software uses a proxy-like architecture for securely connecting to the network. Unfortunately, the KNIME AP does not have a platform-wide support for authenticated proxies yet. We are on it, and we plan to fix this issue with version 5.2.
If your issue is really caused by proxy authentication, unfortunately there is no workaround other than temporarily disabling your proxy.
Best,
Leon
Hi @leon_wenzler ,
Thank you for your reply. I look forward to KNIME being used normally through the proxy network after the upgrade.
BRs
Banksy
This topic was automatically closed 7 days after the last reply. New replies are no longer allowed.