I am 5-day trained in KNIME by National Government Agency and doing my first workflow. The idea is to create a pivot after a group with some exceptions and conditions on a dataset (available in MS Excel) and was able to get the desired result. However, I am having the following issues
The workflow works as expected on single file. But I will get multiple such files (probably in 100's). So I have used List Files/Folders - Table Row to Variable Loop Start - Excel Reader - Variable Loop End. As the output is to be written to another MS Excel File, only the last iteration file is getting generated. How to generate MS Excel File (output) for each iteration?

In Create File Name node, Output flow variable is available as String, where as in Excel Writer node, file_selection is Path variable. So I am using String to Path node in between. Is this a known issue?

I wanted to work on File paths, so I have tried to use URL to File Path node, but I am getting the following error: No column in spec compatible to "StringValue" or "URIDataValue".

In the data set, column FundSource will have multiple values. I have used Row Filter and worked on workflow to generate the output in excel. How can I make it dynamic (as I will not know the different FundSource available, so cannot use Row Filter also). How to make a Loop inside a Workflow Loop.
In all, the output of the workflow should be… for each data set available (MS Excel Files) and for each FundSource in that data set one Excel file output should be generated.
I am attaching the WorkFlow and the sample input files (for testing I am using 2 files City1 and City2 for List Files node).
Thanks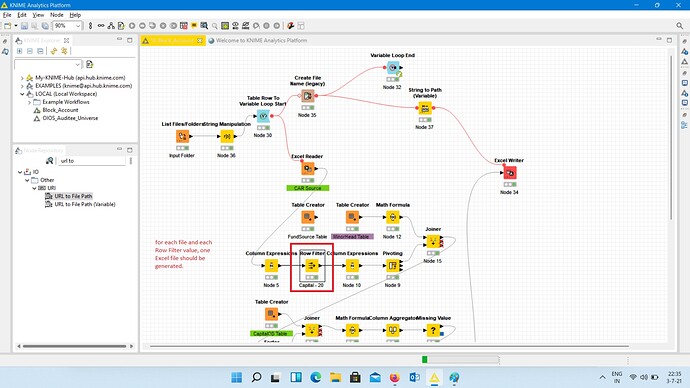 Block_Account.knwf
(71.3 KB)
City1.xls (283 KB) City1.xls (283 KB)
~Oneflydown