Hello and Good Morning,
I am presently undertaking a Proof of Concept workflow which is to be used by our Accounts Payable staff who during a month receive a Vendor soft copy invoice in an XLS file. We have several vendors that send in these soft copy invoice files. These files are to be manipulated into a format suitable to be imported to our ERP system.
My PoC Knime workflow uses some Quick forms to capture input variables ( Invoice Number, Invoice Date, Vendor), completes a File Import of the XLS, and passes the file and variables through to a IF switch where I evaluate if the file is for Vendor 1 (true) or not (false). If the IF Switch evaluates as true, the file continues the workflow path to be manipulated per the requirements of Vendor 1 's file layout. If the IF Switch evaluates as false… the file and variables pass to another IF switch where I evaluate if the file is for Vendor 2 (true) or not (false)… etc etc . At present I output to a report, but eventually it will be a DB Update, once I get past my current problem.
When executing this PoC workflow locally in Knime it works completely and correctly, as expected. When operating the workflow in the web portal it does not. I have established (by using a test break point) that my suite of Quickform forms (which are wrapped in a single metanode) is completing and passing all of its variables and the file out of the wrapped metanode and to the IF Switch. I am not receiving any 'show workflow message' to help me further diagnose the problem. So, I am turning to the Knime community for help in sourceing a solution.
Workflow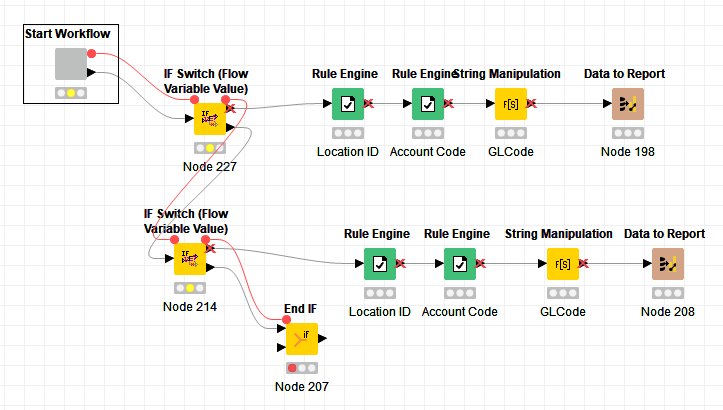 Wrapped Node that collects the Variables