Hi, I've been testing Excel formatting but I've found that when I try to read & write the file from Sharepoint some formatting doesn't work correctly (but it does with local files).
This cell here is meant to have word wrap. The option is selected above when I open the formatted file but it's not actually wrapped.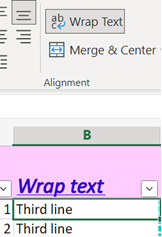 This is what it should look like.

All other formatting options seem to work correctly except word wrap in Sharepoint.