Good Day Dear Knimers

In this discussion @bruno29a helped me to solve problem with data comparison.
Now I have almost the same problem, but here I have to compare data (month and year) with current month and year. For that I have done the following:
Created one more variable, which identifies current month (hope it identifies correctly)
Added if statement in order to compare year and month
The problem is that I could not add and operation in column expression.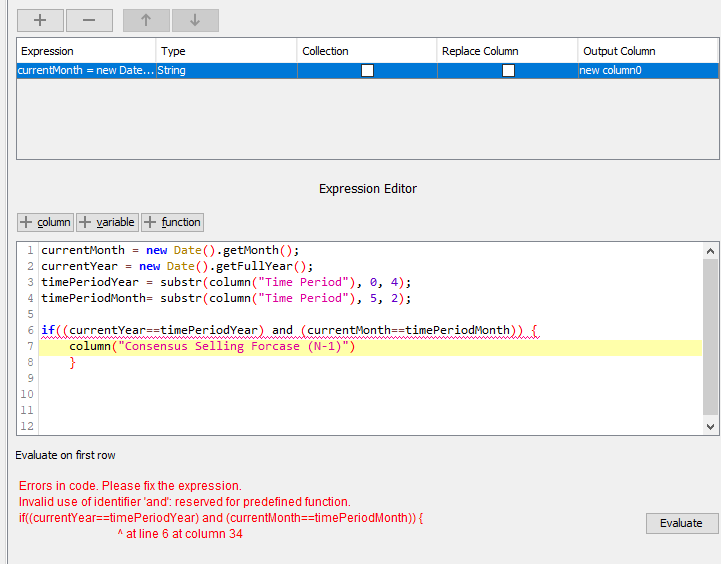 currentMonth = new Date().getMonth();
currentYear = new Date().getFullYear();
timePeriodYear = substr(column("Time Period"), 0, 4);
timePeriodMonth= substr(column("Time Period"), 5, 2);

if((currentYear==timePeriodYear) and (currentMonth==timePeriodMonth)) {
    column("Consensus Selling Forcase (N-1)")

}

So, in general my formula looks like this:


if( date(date#( "Time Period",'MMM YYYY'),'YYYY/MM')>='$(vToday)',
"FY(Full Year) Consensus Selling Qty",'')  as "YTG Consensus Selling Qty",
if( date(date#( "Time Period",'MMM YYYY'),'YYYY/MM')<'$(vToday)',
"FY(Full Year) Consensus Selling Qty",'')  as "YTD Consensus Selling Qty",

where vToday is
vToday = Date(Today(),'YYYY/MM');
Can you please help me to solve this issue?
So, I have to compare current month and year with time period(month and year)
Many thanks,
Karlygash