Hi!
I need to calculate the delta between two rows, for each row, taking into consideration the timestamp and for each user id.
I have these columns and I must calculate column Delta A example: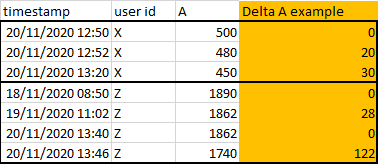 For each user_id I have to:
sort the timestamp (with sorter node)
Then I have to calculate the difference for the column "A" between the timestamp 2 - timestamp 1, timestamp 3 - timestamp 2 etc…
How can I do that?
The first timestamp for each user id should be 0.
Thanks!
Giad