Up until a few days ago I could happily run KNIME in batch mode and read and write Excel and CSV files to the local filesystem.
In my case I was using a Windows Network share that was mounted as the F drive, the same drive as my KNIME workflow but outside the KNIME workflows.
Now when I run these workflows they run fine from the GUI but fail in a batch.
This test workflow is very simple and writes to the C drive and fails in the same way.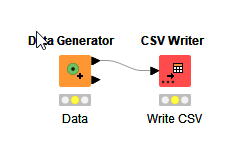 The CSV writer is configured as: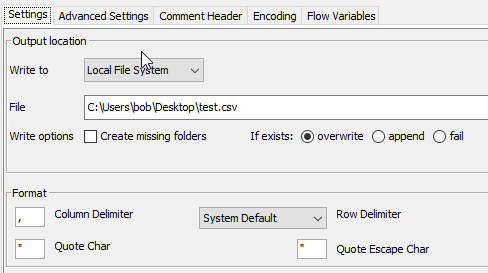 The error message shows that the CSV writer node could not be loaded but I don't understand why this behaviour has changed.
I'm running KNIME 4.4.1 with the latest updates applied.
aug. 26, 2021 8:54:08 PM org.apache.cxf.bus.osgi.CXFExtensionBundleListener addExtensions
INFO: Adding the extensions from bundle org.apache.cxf.cxf-rt-frontend-jaxrs (168) [org.apache.cxf.jaxrs.JAXRSBindingFactory]
aug. 26, 2021 8:54:08 PM org.apache.cxf.bus.osgi.CXFExtensionBundleListener addExtensions
INFO: Adding the extensions from bundle org.apache.cxf.cxf-rt-transports-http (171) [org.apache.cxf.transport.http.HTTPTransportFactory, org.apache.cxf.transport.http.HTTPWSDLExtensionLoader, org.apache.cxf.transport.http.policy.HTTPClientAssertionBuilder, org.apache.cxf.transport.http.policy.HTTPServerAssertionBuilder, org.apache.cxf.transport.http.policy.NoOpPolicyInterceptorProvider]
aug. 26, 2021 8:54:08 PM org.apache.cxf.bus.osgi.CXFExtensionBundleListener addExtensions
INFO: Adding the extensions from bundle org.apache.cxf.cxf-rt-transports-http-hc (172) [org.apache.cxf.transport.http.HTTPConduitFactory, org.apache.cxf.transport.ConduitInitiator]
ERROR    main FileWorkflowPersistor      Unable to load node with ID suffix 2 into workflow, skipping it: null
java.lang.NullPointerException
        at java.base/java.util.regex.Pattern.quote(Unknown Source)
        at com.nodepit.knime.explorer.WebDavContentProvider.getFileStore(WebDavContentProvider.java:208)
        at org.knime.workbench.explorer.filesystem.ExplorerFileSystem.getStore(ExplorerFileSystem.java:116)
        at org.knime.workbench.explorer.ExplorerMountPointFileSystemAccess.getStore(ExplorerMountPointFileSystemAccess.java:288)
        at org.knime.workbench.explorer.ExplorerMountPointFileSystemAccess.isReadable(ExplorerMountPointFileSystemAccess.java:261)
        at org.knime.filehandling.core.util.MountPointFileSystemAccessService.isReadable(MountPointFileSystemAccessService.java:267)
        at org.knime.filehandling.core.defaultnodesettings.KNIMEConnection.checkMountpointConnected(KNIMEConnection.java:280)
        at org.knime.filehandling.core.defaultnodesettings.KNIMEConnection.isConnected(KNIMEConnection.java:259)
        at java.base/java.util.stream.ReferencePipeline$2$1.accept(Unknown Source)
        at java.base/java.util.ArrayList$ArrayListSpliterator.tryAdvance(Unknown Source)
        at java.base/java.util.stream.ReferencePipeline.forEachWithCancel(Unknown Source)
        at java.base/java.util.stream.AbstractPipeline.copyIntoWithCancel(Unknown Source)
        at java.base/java.util.stream.AbstractPipeline.copyInto(Unknown Source)
        at java.base/java.util.stream.AbstractPipeline.wrapAndCopyInto(Unknown Source)
        at java.base/java.util.stream.FindOps$FindOp.evaluateSequential(Unknown Source)
        at java.base/java.util.stream.AbstractPipeline.evaluate(Unknown Source)
        at java.base/java.util.stream.ReferencePipeline.findFirst(Unknown Source)
        at org.knime.filehandling.core.defaultnodesettings.filesystemchooser.config.MountpointSpecificConfig.getDefaultMountpoint(MountpointSpecificConfig.java:196)
        at org.knime.filehandling.core.defaultnodesettings.filesystemchooser.config.MountpointSpecificConfig.<init>(MountpointSpecificConfig.java:99)
        at org.knime.filehandling.core.defaultnodesettings.filesystemchooser.FileSystemChooserUtils.createConvenienceConfig(FileSystemChooserUtils.java:127)
        at org.knime.filehandling.core.defaultnodesettings.filesystemchooser.FileSystemChooserUtils.lambda$0(FileSystemChooserUtils.java:114)
        at java.base/java.util.stream.ReferencePipeline$3$1.accept(Unknown Source)
        at java.base/java.util.Iterator.forEachRemaining(Unknown Source)
        at java.base/java.util.Spliterators$IteratorSpliterator.forEachRemaining(Unknown Source)
        at java.base/java.util.stream.AbstractPipeline.copyInto(Unknown Source)
        at java.base/java.util.stream.AbstractPipeline.wrapAndCopyInto(Unknown Source)
        at java.base/java.util.stream.StreamSpliterators$WrappingSpliterator.forEachRemaining(Unknown Source)
        at java.base/java.util.stream.Streams$ConcatSpliterator.forEachRemaining(Unknown Source)
        at java.base/java.util.stream.AbstractPipeline.copyInto(Unknown Source)
        at java.base/java.util.stream.AbstractPipeline.wrapAndCopyInto(Unknown Source)
        at java.base/java.util.stream.AbstractPipeline.evaluate(Unknown Source)
        at java.base/java.util.stream.AbstractPipeline.evaluateToArrayNode(Unknown Source)
        at java.base/java.util.stream.ReferencePipeline.toArray(Unknown Source)
        at org.knime.filehandling.core.defaultnodesettings.filesystemchooser.FileSystemChooserUtils.createSpecificConfigs(FileSystemChooserUtils.java:117)
        at org.knime.filehandling.core.defaultnodesettings.filesystemchooser.FileSystemChooserUtils.createConfig(FileSystemChooserUtils.java:104)
        at org.knime.filehandling.core.defaultnodesettings.filechooser.AbstractSettingsModelFileChooser.<init>(AbstractSettingsModelFileChooser.java:149)
        at org.knime.filehandling.core.defaultnodesettings.filechooser.writer.SettingsModelWriterFileChooser.<init>(SettingsModelWriterFileChooser.java:125)
        at org.knime.filehandling.core.defaultnodesettings.filechooser.writer.SettingsModelWriterFileChooser.<init>(SettingsModelWriterFileChooser.java:148)
        at org.knime.base.node.io.filehandling.csv.writer.CSVWriter2Config.<init>(CSVWriter2Config.java:155)
        at org.knime.base.node.io.filehandling.csv.writer.CSVWriter2NodeModel.<init>(CSVWriter2NodeModel.java:111)
        at org.knime.base.node.io.filehandling.csv.writer.CSVWriter2NodeFactory.createNodeModel(CSVWriter2NodeFactory.java:82)
        at org.knime.base.node.io.filehandling.csv.writer.CSVWriter2NodeFactory.createNodeModel(CSVWriter2NodeFactory.java:1)
        at org.knime.core.node.NodeFactory.callCreateNodeModel(NodeFactory.java:524)
        at org.knime.core.node.Node.<init>(Node.java:305)
        at org.knime.core.node.workflow.FileNativeNodeContainerPersistor.preLoadNodeContainer(FileNativeNodeContainerPersistor.java:197)
        at org.knime.core.node.workflow.FileWorkflowPersistor.loadNodeContainer(FileWorkflowPersistor.java:970)
        at org.knime.core.node.workflow.WorkflowManager.postLoad(WorkflowManager.java:8518)
        at org.knime.core.node.workflow.WorkflowManager.loadContent(WorkflowManager.java:8419)
        at org.knime.core.node.workflow.WorkflowManager.load(WorkflowManager.java:8373)
        at org.knime.core.node.workflow.WorkflowManager.load(WorkflowManager.java:8294)
        at org.knime.core.node.workflow.WorkflowManager.load(WorkflowManager.java:8267)
        at org.knime.core.node.workflow.WorkflowManager.loadProject(WorkflowManager.java:8112)
        at org.knime.core.node.workflow.BatchExecutor.loadWorkflow(BatchExecutor.java:740)
        at org.knime.core.node.workflow.BatchExecutor.runOne(BatchExecutor.java:907)
        at org.knime.core.node.workflow.BatchExecutor.runAll(BatchExecutor.java:889)
        at org.knime.core.node.workflow.BatchExecutor.mainRun(BatchExecutor.java:671)
        at org.knime.product.headless.KNIMEBatchApplication.runBatchExecutor(KNIMEBatchApplication.java:127)
        at org.knime.product.headless.KNIMEBatchApplication.start(KNIMEBatchApplication.java:80)
        at org.eclipse.equinox.internal.app.EclipseAppHandle.run(EclipseAppHandle.java:203)
        at org.eclipse.core.runtime.internal.adaptor.EclipseAppLauncher.runApplication(EclipseAppLauncher.java:134)
        at org.eclipse.core.runtime.internal.adaptor.EclipseAppLauncher.start(EclipseAppLauncher.java:104)
        at org.eclipse.core.runtime.adaptor.EclipseStarter.run(EclipseStarter.java:401)
        at org.eclipse.core.runtime.adaptor.EclipseStarter.run(EclipseStarter.java:255)
        at java.base/jdk.internal.reflect.NativeMethodAccessorImpl.invoke0(Native Method)
        at java.base/jdk.internal.reflect.NativeMethodAccessorImpl.invoke(Unknown Source)
        at java.base/jdk.internal.reflect.DelegatingMethodAccessorImpl.invoke(Unknown Source)
        at java.base/java.lang.reflect.Method.invoke(Unknown Source)
        at org.eclipse.equinox.launcher.Main.invokeFramework(Main.java:653)
        at org.eclipse.equinox.launcher.Main.basicRun(Main.java:590)
        at org.eclipse.equinox.launcher.Main.run(Main.java:1461)