Hello everyone,
I got just recommended Knime by a colleague to visualize my data. My background is far from that of a data scientist, so please bear with me.
I have used an observation logging tool called BORIS to analyze workers ergonomic behavior and would like to show insights and conclusions by displaying different natures of behavior over time.
BORIS outputs a csv file in which all categories I created are in a single column, please see a sample below: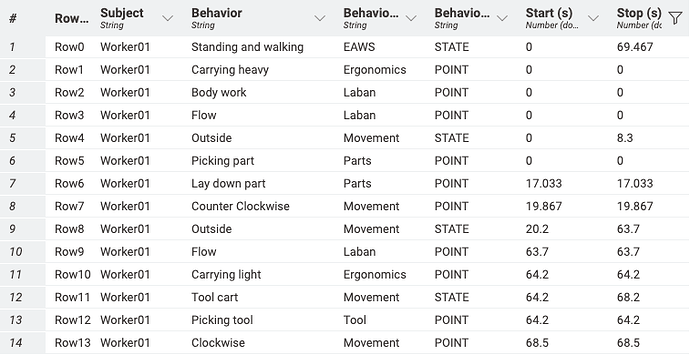 So far I have loaded the file and used a row filter with the according cell description, for example "Standing and walking", to then output a bar histogram, divided into 5 minute segments.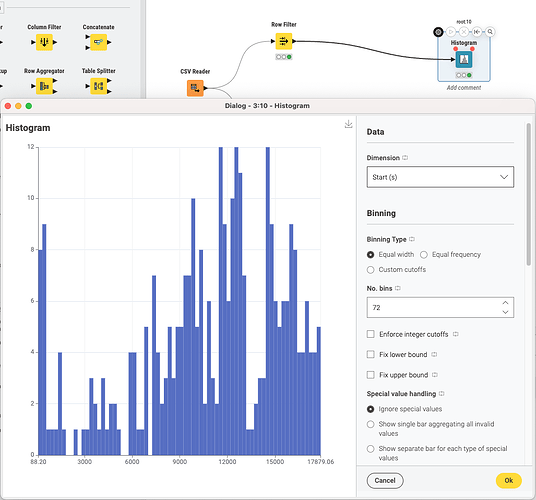 Here comes my question(s):
I would like to declare several row filters as a combined new value, such as: "standing and walking + standing = Good posture" and "bend + arms up high = negative posture". Is there a simple node to do that, add two inputs and output a combined new one?

I would like to feed multiple nodes then into a histogram and show for each bin the 3 values, good posture/bad posture/neutral posture, but based on time per bin. My bins represent 5 minute segments, and I'd like to visually represent how much of these 5 minutes are spent in which posture category. The histogram node doesn't seem to offer this option?

Lastly, my data input is in seconds, in this example 0 - 17.000, and the histogram acts accordingly in its labeling. Is there a time conversion node to automatically convert seconds to h+m ?
I hope these questions are okay to post here, seeing my data output basically all in one column seems to make things a bit unorthodox…
Cheers!