Dear Knimers,
I have the following situation to solve, and I ask for your help:
On the one hand, I have a monthly database with registers of COVID-19 cases (1 case by row) in our State (RS, Brazil), with:
a) a few (9) selected columns (gender, age groups, city, severity of cases (recovery OR death, etc.);
b) selected rows for the period of my research interest.
The workflow (for preparing data) is as shown below:
KNIME_project9.knwf (93.5 KB)
And the image of this workflow is as follows:

And here is (part of) the output data table (the part that could fit on my screen), with almost 1,330,000 cases: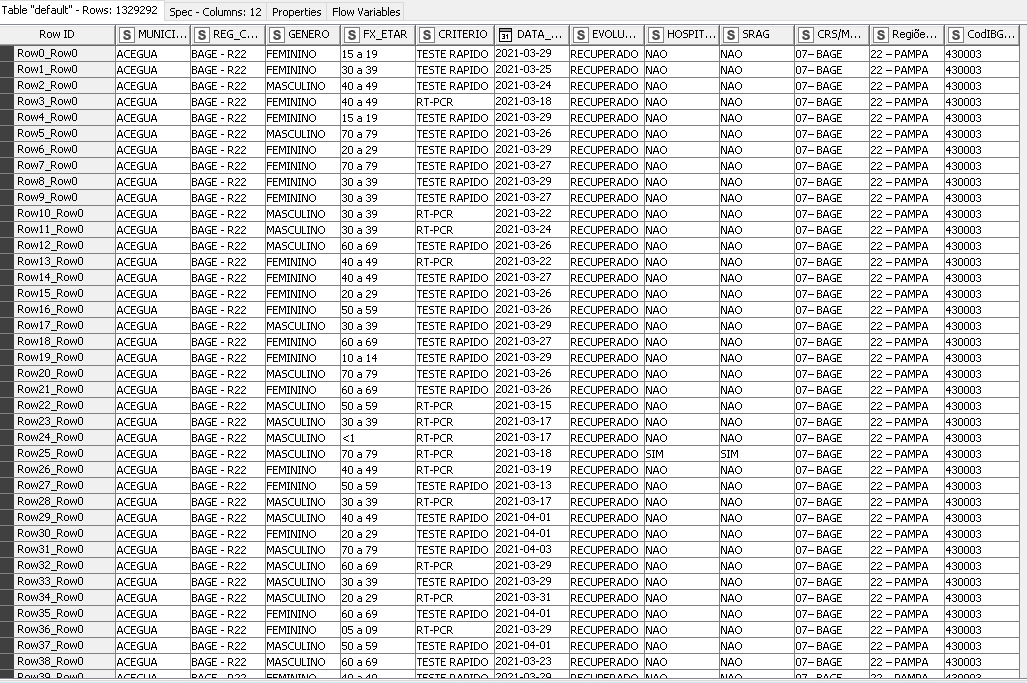 Considering biggest highly differ very much one from another, in order to compare these citites, what I need is to calculate Covid cases or severity by their rates:
incidence of new cases by month / local population;
Hospitalization rates (as % leading to severe cases by city); and
lethality rates (also as % of cases leading to death by city). Can anyone help me on configuring nodes such as Math Formula? Or another better suited node?
On the other hand, I have a file with the answers to a survey made on local businesses, evaluating a few selected monthly metrics for customers movement in these businesses.
My real goal is to compare general Covid data with inflow/outflow metrics of a specific local/regional industry, month by month, to investigate if the pandemics had (or not) discouraged ordinary customers to search for this particular kind of business.
I thought a few possible working lines, including Pivoting and/or/Unpivoting nodes, or GroupBy nodes, but reached to go no longer with them.
Can someone help me, shedding some light on how to work with these data and my research goals?