Hi,
I'm hoping you can help me! I'm new to JSON and I'm new to Knime.
I'm working with a JSON file structured like this:
I want to be able to write to a table where the "@k" values are column headers and the "@v" values are populated under the appropriate column heading. Looking at the image above, I want "addr:city" to be a heading and "Derby" to be a value underneath that heading.
I've created a JSON Path that gets me:

.
After Ungrouping and using JSON to Table, I get the following, which still isn't right.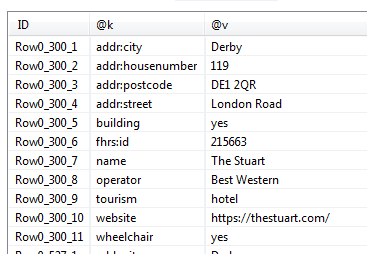 Does anyone have any advice that can get me back on course?
Thanks in advance.
Cheers - John.