The owner of the tarantula-infested hotel went to his MBA brother-in-law for advice, who tells him "problems are opportunities in disguise!" Inspired by this wisdom, the owner decides to turn his business into a theme hotel for arachnophiles. Visitors are encouraged to catch the tarantulas and bring them to the kitchen, where the tarantulas become ingredients in all kinds of unusual fusion dishes. This attracts the attention of the nutrition science department of the nearby university, who want to know if tarantulas are a good source of protein. They send a group of students who start tracking the weights of the guests and compare it to a vegetarian control group. The students collect the data and process it with a Knime workflow: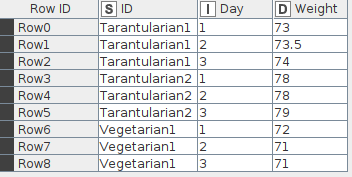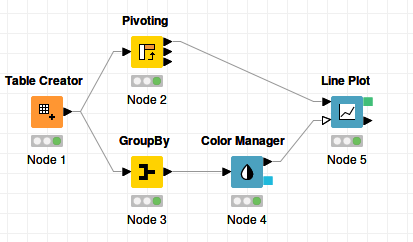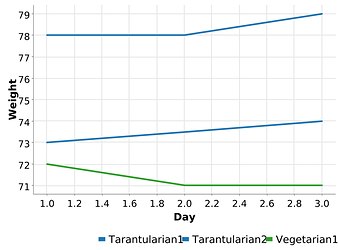 The professor is impressed by the students' work, especially by the fact that the vegetarians and the tarantularians can be easily distinguished in the plot by the line colors. However, he sends them back to collect more data in order to achieve statistical significance. After a few days the students added an additional tarantularian and vegetarian.

Uh oh: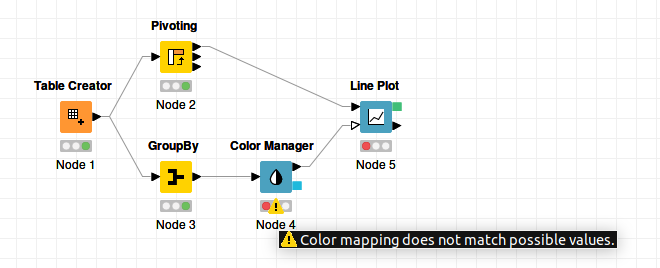 The workflow cannot be executed without re-configuring the color manager. How awesome would it be if one could color the line using regular expressions… In this case, color all columns that match "Tarantularian[0-9]+" blue and the columns matching "Vegetarian[0-9]+" green. Then we can keep adding data to the table without having to worry about the color manager.
A second suggestion: the Color Manager's feature of coloring data using a continuous variable, aka the "color range" functionality, is a bit limited because only 2 colors can be used. It seems to be impossible to generate a more complex color range such as:
Best
Aswin