Hi All,
I have a workflow (see attached)
that takes 20 links from a long list of links (table creater) (~17,000), and downloads them. It extracts specific values from the downloaded table and makes a new table with the extracted values. The table is getting updated using nodes like "concatenate" and appends in a "csv writer" node. Suddenly, the csv reader stops to read a link. The url link that cannot be read works perfectly. The link that stops is not always the same, instead, it is always different. If I reset, and execute from the specific subset of links to continue downloading it shows no issue until it stops to another random link.
Could you please help me on how to bypass or resolve this issue?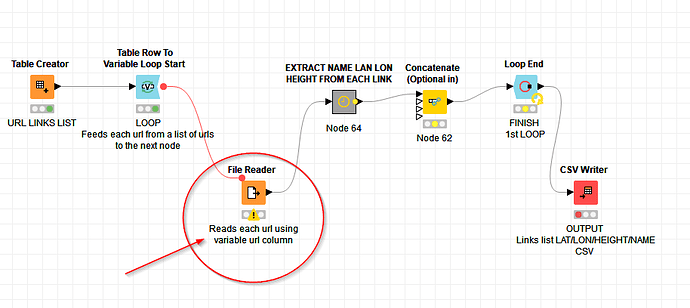 LINKS_download.knwf
(275.7 KB)
The knime console reports:
ERROR File Reader 5:104:66 Execute failed: Can't access 'http://geodesy.unr.edu/NGLStationPages/stations/COC2.sta'. (Read timed out)
WARN File Reader 5:104:66 Can't access 'http://geodesy.unr.edu/NGLStationPages/stations/COC2.sta'. (Read timed out)