Hello!
This is my first posting to the forum - I have been working with KNIME for 9 days now, and I have already a working pretty nice workflow.
This is about 'Weather'! I have a big difference in how many consecutive rows are missing, anything from 1 row to tens of thousands… For the future I see handling of missings being done in groups. (I have spent 1/2 year testing best options). From Linear, Forcast & recalculated NearByStations, and finally comparing pairs of older complete sets from my station with same period complete sets from NearByStations.
My problem at this point is that I want to exclude missings when they are too many for the method.
I have simplified this in the table below. - what about counting and filering out groups of equal or more then 3? Has spent last day and this morning without comming up with a solution to what nodes to use and so on.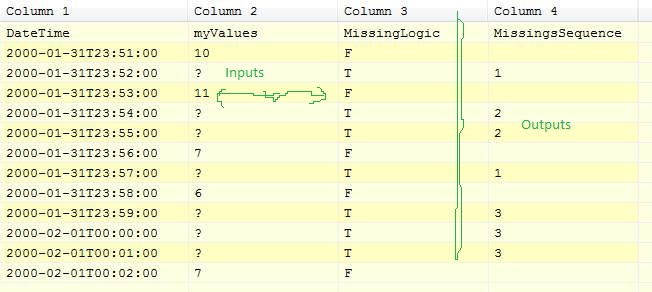 Anyone having a solution?
Thanks, Batjesen