Hello community,
We are happy to announce the KNIME Modern UI Preview! This Labs extension now provides a preview of the new user interface with an improved user experience.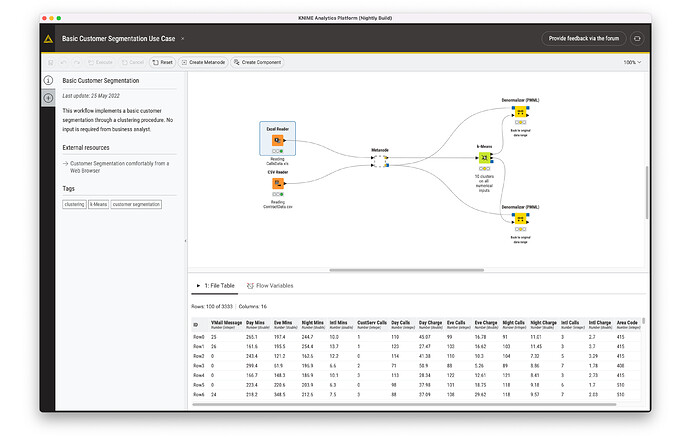 In the current preview the following features are already included
Create new workflows, open existing workflows and save any workflow locally.
Side panels for

the workflow and component metadata such as description, external resources and tags in a side panel.
the node repository to browse and add nodes by category, search for nodes or filter search results by category, and look into the selected node's description.

A workflow toolbar at the top of the user interface to interact with the entire workflow, for example to execute all nodes. Or, Select specific nodes and interact with them.
A node action bar that appears on hover above a node.
The possibility to re-organize workflows by collapsing nodes into a metanode or a component. Likewise, metanodes and components can be expanded.
The re-naming name feature for metanodes or a components – directly in the workflow canvas.
Setup your metanodes by adding ports at the metanode.
Enter components and metanodes and browse their contents, with the help of the workflow breadcrumb.
The node monitor at the bottom to immediately inspect the node port output and supplied flow variables.
An infinite workflow canvas which expands the canvas automatically to give as much space as needed in any direction.
Different kind of zooming possibilities with different zoom levels.e.g. scale the view to fill or fit to the screen.
More features come in the future
We will add more features in the future, like:
Dynamic ports at native nodes
Workflow annotation and node label editor
Opening multiple workflows side-by-side
Copy and paste
Handle dropped items (files, workflows, nodes …) into the user interface
Documentation
How you could install the extensions is listed on the KNIME Documentation page.
Disclaimer
This extension is considered a preview and is currently under development. Workflow elements such as connectors or annotations are visualized in a new way and may therefore not look exactly like in the current KNIME Analytics Platform.
Feedback
We are looking forward to receiving your feedback. So, please reply here with any ideas, comments, or questions. If you run into any problems please follow the Bug Reporting Best Practices.