Dear Knime Forum,
Since yesterday I am encountering a rather strange problem when I try to create line charts or bar charts with nodes that are based on Java Script.
Whenever I try to run the Line Chart node, I get the following errors in the console:
ERROR Line Plot (JavaScript) 4:4 Initializing view failed: Executing script failed with timeout. The script is: 'return (document.readyState == 'complete');'
ERROR Line Plot (JavaScript) 4:4 Retrieving image from view failed: Executing script failed with timeout. The script is: 'return document.getElementById('node-SINGLE').contentWindow.knimeLinePlot.getSVG();'
This then leads to the node not generating any grahic results.
As there are already a few topics with a similar content (e.g. KNIME JavaScript View Error - Failed Execution - KNIME Analytics Platform - KNIME Community Forum), I tried to change the settings in Preferences > JavaScript Views (see Screenshot below) but with no noticeable change to the node behavior.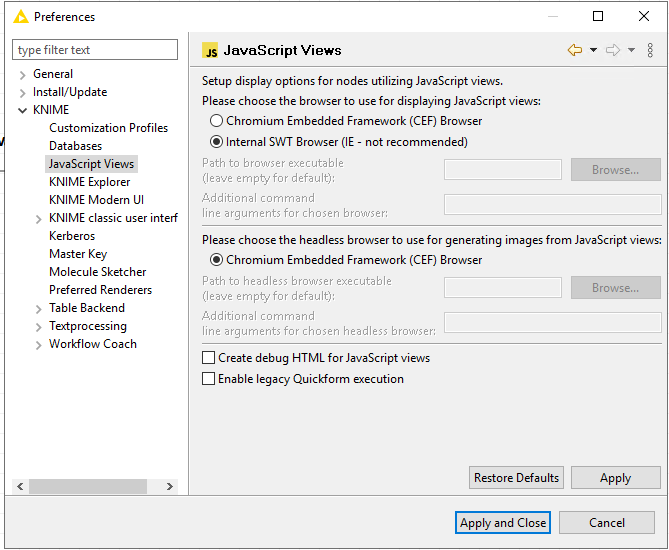 So do you maybe have any additional ideas what could be done in this situation?
Thank you very much in advance for your support!