Hey!
So I am trying to call a local workflow, based upon a flow variable which I have previously queried from an external file. (So the flow variable basically defines the location of the local workflow I want to call). Besides, I would like to pass some more data (form doesn´t matter - flow variable/ data table/ JSON/ …) to my called workflow.
While I can set the workflow path of the workflow I want to call with a flow variable via the 'Call local workflow (Row Based)' node, I struggle with passing more data to that workflow.
My approach was to convert the data into a JSON-file, but since I am choosing my workflow path by flow variable, I cannot load the input format of my called workflow & therefore cannot choose this JSON-file as input for a 'Container Input (JSON)' node in my called workflow. I will attach some screenshots to clarify what I mean.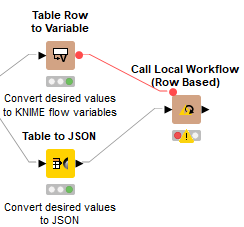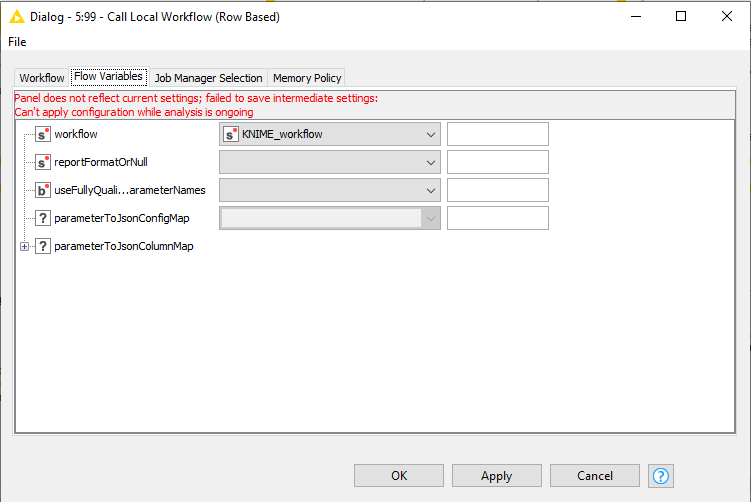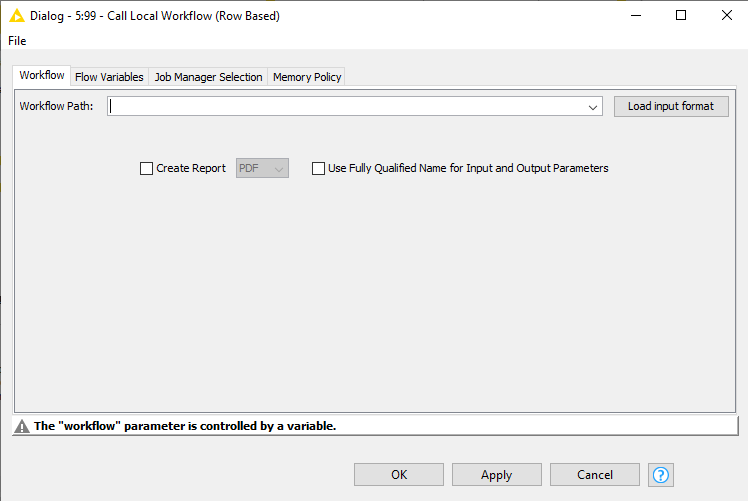 My second approach was to use the 'Call Local Workflow (Table Based)' Node. While this node usually has the advantage, that all flow variables available in the "mother workflow" can be passed to a 'Container Input (Variable)' node in the called workflow, this node does not seem to allow to set the workflow path by a flow variable at all! At least I get an error message rightaway "Invalid settings: Invalid workflow path".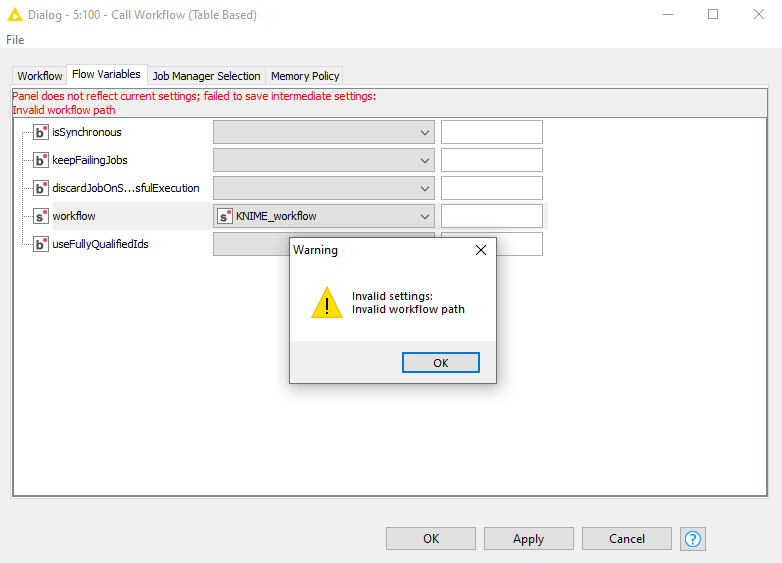 Is this just an error on my side, or can you actually not set the workflow path via flow variable for this node?
Does anybody have an idea, how I can solve this problem and archieve my goal?
For people trying the same thing, there`s two more ideas I had but could not find the time to try them out, yet:
Call the local workflow via a python script (https://gist.github.com/greglandrum/d721822e8973ff8438cf2af283c9271e)
Call the local workflow via the 'Batch Test' node from the Schrödinger extension (sadly requires a Schrödinger license, apparently ("Execute failed: License is not correctly set")).