Hi community,
I'm a newbie currently trying to scrape website (https://dusseldorf.shopdutyfree.com/en/) subcategories from its top categories, trying to do it dynamically as some categories don't have any subcategories and also the number of existing subcategories varies per category.
The workflow is almost done, but I don't get correct results, which I think has to do with the wrong loop node. For instance, I get subcategories skincare, make-up and fragrance listed across all categories (new, beauty, special offers etc), although they actually belong only to 1 category (beauty).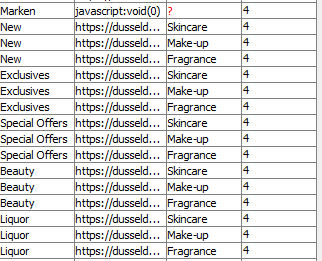 Does someone have an idea as to which loop node I should use or if there is another problem with the workflow? Thanks a lot.