Hi all,
Further to a number of forum posts about the removal of Emoji and other characters from strings, I wanted to let you know I have extended my original (prototype) "String Emoji Filter" based on some feedback received and created a new component "String Emoji and Character Class Filter" on the hub at
This new component makes use of a java snippet and a number of regex "categories" to allow you to select the classes of character to be filtered. See the help documentation on the component for information about where you can read up on the categories used. I confess that I haven't managed to test an example of every category covered but I'm hoping that the java regex works as described in "Unicode Categories" section of the the article Regex Tutorial - Unicode Characters and Properties (regular-expressions.info) which, along with the recent forum post Icons & Emojis Removal (Continuation), was my inspiration for reworking this component.
Anybody who uses the previous String Emoji Filter may wish to take a look at this new component, and please do let me know if you discover anything that the String Emoji Filter managed to filter out that this new component doesn't.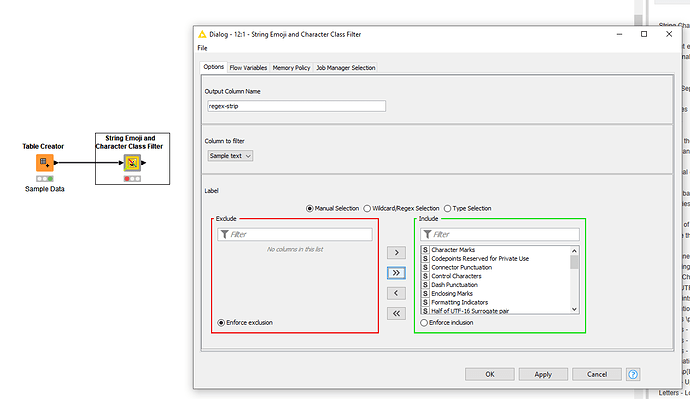 (It's still not "perfect" but if you have any specific regex patterns (with a "category name") that you think might be useful generally for inclusion, please let me know.)