I am using "String do document" node to convert CSV file to document. The node gives this error during execution:
Execute failed: Cannot invoke "java.net.URL.getPath()" because "fileUrl" is null
I have tried all possible scenarios: 1) Updated KNIME. 2) Played with all the options of the node. 3) Reinstalled extension. 4) Used the file with just one row to rule out any issue with the input.
I am attaching the screenshot that shows the error, the input file with just one row and the KNIME workflow.
I will appreciate any help in resolving this issue.
Screenshot of the error: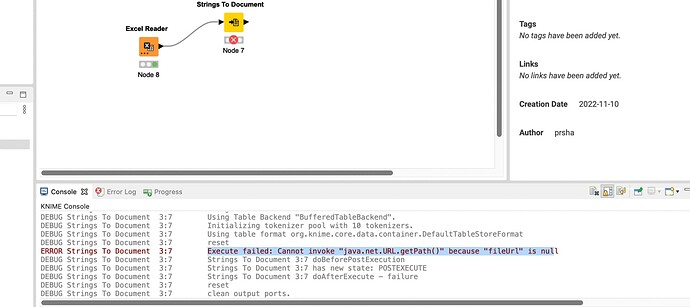 Knime workflow: Project - 5.knar.knwf (9.4 KB)
Input file: test-excel.xlsx (8.5 KB)