In KNIME AP 5.1, the absence of the Classic UI's ability to view the output data ports in pop up windows almost certainly means that I will now find myself placing the Table View nodes at various points in order to be able to see the output from different nodes at the same time. When I first started using KNIME, just two and a half years ago, the ease of viewing data from multiple nodes concurrently was one of its stand-out features. When I was using Alteryx, for the couple of years prior, I had to drop "Browse Tools" onto the canvas to view node output, and whilst I got used to it because there was no alternative, I found the KNIME Classic UI approach to be far more efficient and productive.
I hope that capability returns in 5.x but in the meantime, if I am to use Table Views, then I want them to be as efficient as possible.
By default, the Table View node places a large amount of white space around the data. It is perhaps pretty and for some, more readable, but I would prefer it to be more efficient. To that end, it can be configured to show "compact rows"…
This screenshot shows the difference between normal and compact in KNIME AP 5.1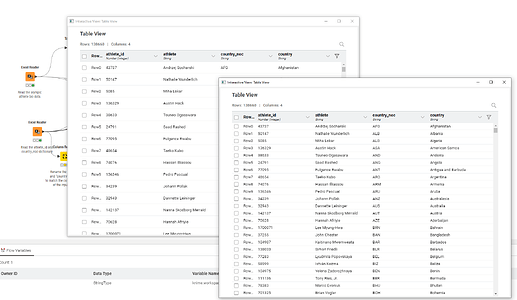 Personally, I would prefer to be able to have it set to compact mode all the time, but I realise this may not be to everybody's taste. The ability therefore to either toggle between "compact" mode and "normal" on the view itself (i.e. on the display that is opened with F10, rather than having to open the configuration dialog), and/or the ability to set it as a default for the local KNIME AP environment would be a welcome addition.
(Notwithstanding the above, I would still add my vote to being able to open a table viewer directly from the output data ports though as per Classic UI, and to allow the 5.1 data viewer panel to be completely closable. Working with multiple displays means I would rather have my workflow on my primary monitor, and the data viewers on my laptop screen, or other secondary display. I don't really want to have to litter my workflow with Table View nodes in order to achieve this)