Hello to the Forum,
i am a Newbie and i am really having trouble to get this done. The Table looks like this: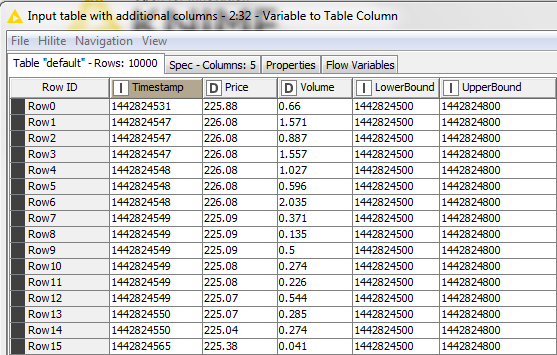 I want to check now whether the Timestamp is between the "Lower" and "Upper Bound". Here some pseudocode from a rule engine: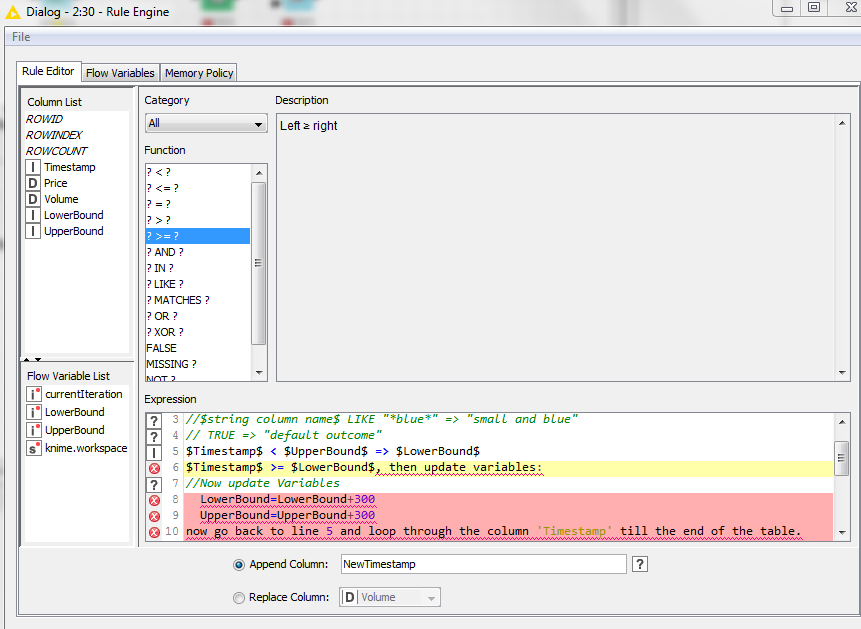 Since its hard to read:
$Timestamp$ < $UpperBound$ => $LowerBound$
$Timestamp$ >= $LowerBound$, then update variables:
//Now update Variables
LowerBound=LowerBound+300
UpperBound=UpperBound+300
now go back to line 5 and loop through the column 'Timestamp' till the end of the table.
So what i want to do is find all values that lie in between the first 5min Interval, write for them in a new Column NewTimestamp the beginning of the interval (This is for one the Timestamp for that interval but acts as a marker, so that i can later use GroupBy for this column to aggregate the data for the interval in the next step). Then create the next interval by adding 300 seconds to the lower und upper border of the interval and continue to find all the values that belong int hat interval, then updaten interval again… and so on…
Upper and LowerBound don't need to be actually in the table they could be flow variables too, i just wasn't able to update them and continue the loop with the updated values. The column Timestamp is in ascending order.
My trouble was that i could check for the condition and write lowerBound in a new column, but the part with updating 2 Variables inside the loop and continue the loop with new values i was not able to do.
Thanks!