Dear Knimers,
one of my tasks is to create some Scatter Plots out of thousands of measurement files. So I created a loop where I load the data, do some math, create some variables, plot the desired data in a scatter plot and export the image with a proper file name.
For testing this workflow I ran the loop over "only" 1968 files. During the execution it seemed that the creation of the scatter plot is the time limiting step. Though I put a time node into my workflow. Heres the result: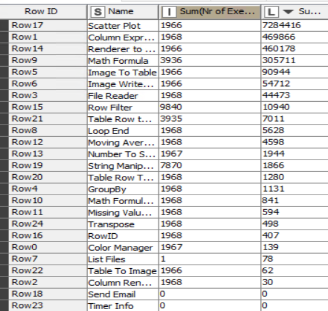 In the first column the node is listed, the second column shows the number of calls, the third column the summarized execution time.
Do you have an idea how to speed up the execution? Since I save the files I do not need to have a look on the images during the workflow execution.
Best regards,
Andreas