Hi all,
i stumbled a across a bigger problem for myself yesterday: I don't get it done to do a calculation like RowCount for a table and store it in FlowVariable so that i can use it for other calculations.
What i tried is i take a Column Expressions Node which just calculates RowCount of a table "old"

Then i thought this is easy so i take "Table Row to Variable" to make a Flow Variable "RowCountOld" out of it so that i then can use this number for a Rule-based Row filter.
but this didn't work the flow Variable is not shown in the lilst of Flow Variables, trying to just type in the Name in the formula didn't work neither?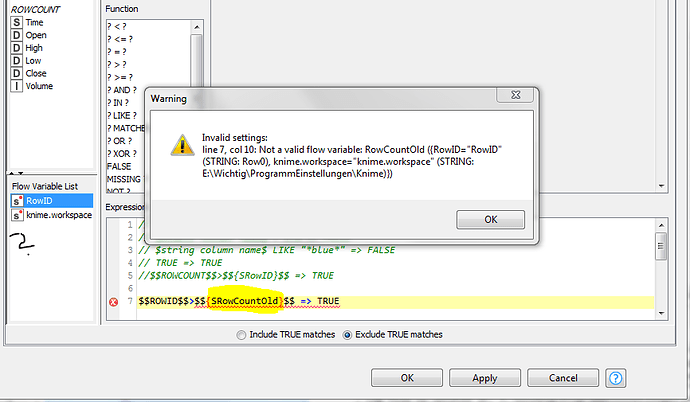 So the Table Row to Variable didn't work. I don't know why.
But my goal actually is more this: How can generally do a calculation in a table and store this in Flow Variable to use this later on. Because its a bit wasterful to make out of a simple number like 500 a column in a table that repeats over potentially millions of rows…
So is there a way in Knime to do a calculation with Data and just save it "flat" in a flow Variable that i then can use later on.
i experimented quite a lot yesterday but it seemed a bit like "seperate worlds" Data and FlowVariables…
Any input welcome!