I love new DB nodes. At least, they perform far much faster than the legacy ones.
They brought some limitations too. I used to employ a configurable Wrapped Metanode in my workflows, which was responsible for providing DB connection to a particular database I need to work with, in a particular part of the workflow. With new DB nodes, it stopped working as I described in my [Recommended way of configuring a database connectors](http://Recommended way of configuring a database connectors) forum topic. Well, I got learnt that I can't get DB connections from wrapped metanodes or components anymore but I'm expected to add appropriate type of DB Connector right to my workflow. It usually looks as follows: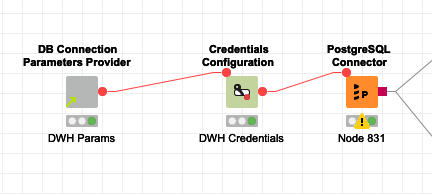 As I stated in the topic I referred, I had to use the Credentials Configuration Node in order to credentials in the PostgreSQL Connector because I was not able to fill a database password with a Flow Variable value. The problem is if I open the workflow that contains this sequence nodes in executed state I cant continue with the workflow since a problem KNIME describes as: "Status: DataLoadError: Loading model internals failed: The server requested password-based authentication, but no password was provided." Please keep in mind the sequence can be a part of loop or have a number of already executed following nodes so it's not easy to re-execute the nodes with no impact to workflow.
This particular issue makes unavailable one of the crutial features we as a company have chosen KNIME as an integration platform, that was an ability to load, investigate and continue with a forkflow that has failed.
For this reason, I'd be glad if I have the option to continue with partially executed workflow back.