Hello, noticing there's a few threads on KNIME community that are related to KNIME Google Authentication node leading to an error.
" Sign in with Google temporarily disabled for this app "…
This app has not been verified yet by Google in order to use Google Sign In…
So i tested it and…
After reading a ton of community threads, I realized I needed to begin using the API Key node, and I need to be able to repeat the setup on my computer, as-well as client computers…
Will admit, I got confused by all the threads and blogs online related to setting up Google APIs…
So I documented every step with screenshots, which helps with adding Google Sheets API, Google Analytics API, and Google Drive API, in a walkthrough designed for business users who need an end to end walk through. Posted here - KNIME Google Authentication API Key.
Reason for blog - noticed the "querying google analytics" post might be a little out of date, as these nodes look like a previous install and I'm new.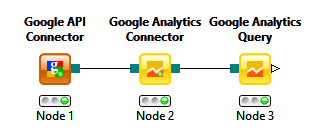 Here are the core threads that helped me dig deeper, thanks in advance for any future feedback on this thread to help future developers implement this solution in production.
Hope the walk through helps others utilize Google Sheets and Google Analytics via Google Authentication API Key. Used the walkthrough twice, both successful usages in KNIME.
Great work knime team, thanks for helping unlock this data source. I'm helping a customer who does quarterly reports to 4 web customers, they get CSV google analytics and spreadsheets on their desktop, then push that to a pdf file. They print this file, walk it to the business, and discuss their marketing campaign success. Now they can give them data whenever they need data. This will change the way these companies do business. Going from 4 refreshes a year to 365…
They only do quarterly reports because it takes so long for them to get all the data together… Now it's instant. Game changer
Happy friday, coffee ftw.
Best,
Tyler