Hi all!
Please, I need some support.
I would like to know how to install and run R packages/libraries in KNME Server.
I use the R Snippet node and I install the following package in my R script:
install.packages("mlr")
library(mlr)
If I execute by right click on the node, my script runs fine. However, when I execute from Server (image), I get the following error. I see that the path is the problem, but I do not know what and where can I choose the right on:
There are messages for workflow "model_testR 2019-03-25 14.33.39"
R Snippet 0:82 - ERROR: Execute failed: Error in R code:
Installing package into '/usr/local/lib/R/site-library'
(as 'lib' is unspecified)
Warning in install.packages("mlr") :
'lib = "/usr/local/lib/R/site-library"' is not writable
Error: unable to install packages
Error: there is no package called 'mlr'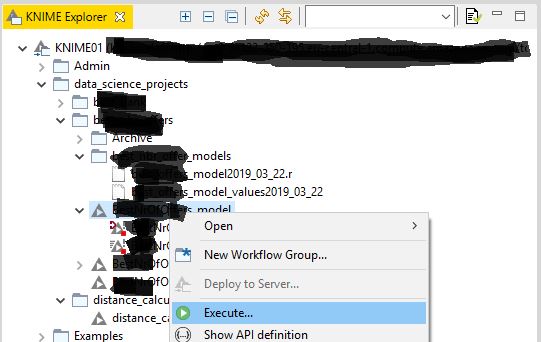 Thank you in advance!!!