Hi All,
not sure if this section is the right section to post a question about the Knime Labs Statistics Node package
I'm trying out the t-SNE package, but i'm having some troubles wrapping my head around how to use it in a production setting, where i want to apply the transformation on fresh incoming data
I was actually looking for a similar approach as the PCA Compute / Apply setup; where you can compute the transformation, and then export PMML and import it into the Production pipeline for the Apply step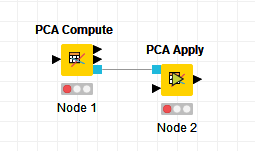 is a similar approach possible? or how to go about applying the transformation on new data?
– e.g. outside of a train-test workbench
Thx a bunch!
Herman