I have a workflow that imports in real estate listings, runs transformations, and sends off to a cloud visualization platform.
While this works great on a single-CSV basis, the nature of source data (active real estate listings) is such that the data can be updated everyday (list price changes, information added, etc.), or, new listings can appear entirely.
I presume the most efficient way to do this would be to use List Files/Folders and DB nodes to continuously add or update new rows into a workflow-local SQLite database, and then run the transformations. I've tried the following image, but got stuck and could use some pointers - this part of KNIME is still a grey area for me: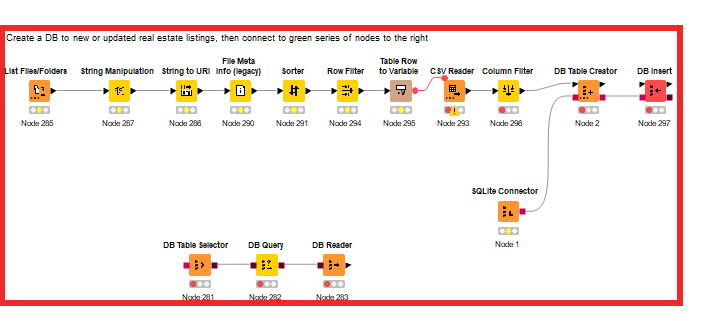 I've also attached a sample workflow. The nodes in the red box are what I'm trying to resolve. The nodes in yellow contain two sample "pulls" of data. You can imagine that the data would be pulled weekly and a new CSV would be generated each time. The nodes in green are working great.
One caveat: the ML Number column is the KeyID of the listing - so no two listings would share the same ML Number. If a listing at the same address has a different ML Number, it's a new / different sale. If a row is entirely identical, and appears in a new data pull, then no update has been made, but if a row contains some updated column but still shares the ML Number from a previous pull, then the listing has received some updated information (i.e., the list price was dropped).
SQLite Update Puzzle.knwf (150.8 KB)
Thanks in advance!